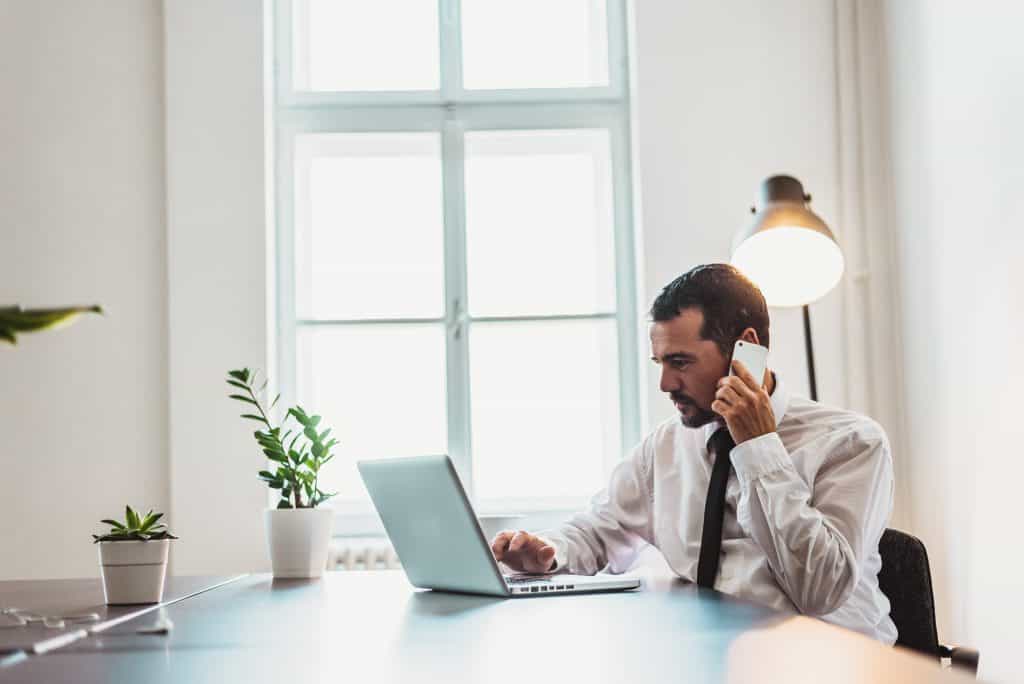 The key to smart sales prospecting can be summed up in two easy steps.
Do it.
Follow up.
And get both down to a science.
But don't worry — we won't leave you to figure out the details on your own. With these three techniques for how to prospect smarter, you'll see just how many people you need to reach to hit your goals and what to do once you've made contact.
1. Work Backwards
You've got dinner plans across town at 7:00 tonight — when should you leave your house? Well, you think about how long it'll take to get there considering distance, traffic, and roadworks, right? You work backwards. The same is true in sales. If you want to know how to prospect for sales smarter, the answer is simple: work backwards.
Backing through your numbers to figure out how many people to see is the best place to start learning how to prospect. See, it's all a numbers game. Anyone you contact enters your sales process. Here's how it works.
Start with your sales goals. If you want to make x dollars, how much product will you need to sell? Then look at past averages — how many quotes and proposals does it take on average to close that many deals? Next, how many appointments does it take to give a quote? And finally, how many cold calls or pop-ins does it take to get that many appointments?
That's how many people you need to contact during your sales term — so just divide it out to see how many people you should be contacting each day.
Then, as you talk to them, divide the prospects into three categories: active, latent, and not interested. Now you know how to follow up. My active buyers, I pursue. My latent buyers, I follow up with periodically. And my prospects who aren't interested, I only contact annually.
2. Plan Your Pitch
Once you know how much to prospect, work on your pitch. You need to make contacts with new people every day. So the more you focus on your goal for the conversation and polish your approach, the better those cold calls will go.
The Goal: Gather Information
When you talk with a new prospect, you're collecting information. You're looking for info that gives insight into their needs, potential solutions, and their level of interest in solving those problems. You want anything that tells you what category they fall into. Every prospect falls into one of those three categories by the end of this first contact: active, latent, or not interested.
Script Next Steps
Why do you need to know what category they belong to? Because then you know potential outcomes for each type of prospect. Based on their interest, you can start the next action. If they respond in a way that makes them active, you'll offer them an appointment. If you see that they're latent, you'll send them your contact information and keep in touch. And if they seem to be uninterested, you'll call them next year. Whatever it is, you need to know the call-to-action based on their broad situation and follow your system after that.
Related: A Sales Lead Management Process You Can Count On
3. Approach Phone and Face-to-Face Prospecting Differently
Cold Call Prospecting
If you're prospecting with cold calls, use a script. Write out what you'll say to collect the information you need to gauge their interest. Then script out how you'll respond if they're active, latent, or uninterested. It's more difficult to move people to the next step when you're not staring them in the face. That makes a script invaluable!
Also, you get more rejections when you're prospecting over the phone. There's often a lot of volume and distraction, and people say no quickly. Yet, phone calls make it easier to get around the gatekeeper. So don't get discouraged with rejection and keep calling new people.
Face-to-Face Prospecting
Face-to-face conversations make it much easier to gauge people. Plus, people tend to be less terse in person. On the other hand, it means you have to take the time to visit these businesses. And if they tell you no, you've wasted more time than you do on a phone call.
However, it's productive if you plan to hit a lot of business in one area, especially if you can tie visits with existing sales-ready appointments. Planning to make two pop-in visits near every new appointment can be a great strategy.
The best tip for face-to-face prospecting is to do something with the information you get. Once they gather a name, most people forget about it or log it in their CRM. That's when prospecting puts you at a disadvantage. It's happened with us before — we were good at face-to-face prospecting, so we spent time doing it. But we didn't make the most of the information we gathered, so we still wasted our time. Our competitors weren't prospecting at all, but they had extra time for things that were more productive.
So, if you take the time for face-to-face prospecting, make sure you follow up. Put them in your process. Send them a card, email them, go back to visit, call them — whatever you need to do to make contact again. Don't just log them in the CRM or put their details in your binder. Make your time count.
Download this Sales Call Report template to track your activities in face-to-face meetings. You can even customize it to your needs. Taking the time to log your visits and plan your follow-up will take your prospecting from good to great!