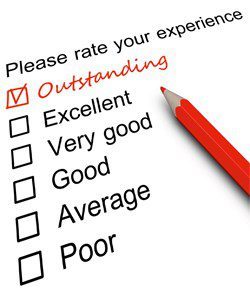 Psst, here's a secret…
Great Customer service is the ONLY way to get more referrals.
Just look at Comcast. They're notorious for having the worst customer service ever. You could wait months and months to get your Internet service hooked up. Some even say that the only way to get Comcast to do anything is to complain on Twitter. Even then, you'd need a big Twitter following to have your complaint noticed and taken care of. Now, Google Comcast. How many referrals do you see in the sea of complaints floating around the Internet? One or two, maybe?
Bad customer service leads to frustration and customer dissatisfaction, and no one would recommend a company that doesn't take care of their issues when they arise.
Customer service is king. It doesn't matter how great your product or service is, people aren't going to want to use it if they have to deal with terrible customer service. If you're trying to build a relationship with a customer, and if the customer runs into an issue that needs to be resolved, you have to make sure that the customer's experience is pleasurable. It's your only chance to shine and get more referrals.
Add a twist to your Interactive Voice Response.
Don't you hate when you call a company only to hear, "Thanks for calling ABC Company. To speak with someone in sales, press 1. To speak with someone in customer service, press 2…"? That's the last thing an angry customer wants to hear. You want to make your customers feel like they're the number one focus in your company.
Start offering great customer service by changing your IVR to something like, "Hi, this is ABC Company. For our most special customer, please press 1. If you're looking to sign up with our service, please press 2."
This type of IVR tells your customer, "We're more focused on our customers than anything else. If you'd like to be our customer, that's great, but you need to get in line behind our existing customers."
Ask yourself, "How can I solve the issue and create more business at the same time?"
As great as it is to give one person exceptional customer service, you want to utilize every opportunity to give an entire business great customer service. Let's say you have a relationship with one person from an organization, and you bend over backwards to give her great customer service. Suddenly, this person leaves the organization and you're back on square one.
When you're solving an issue with an employee inside an organization, always try and get an audience. Make sure everyone knows that you're providing an extra level of service. For example, you can fix the issue in the break room during lunch hour (instead of the customer's desk in the morning) or host a webinar training session (instead of training this one person on how to use your product correctly). This method will allow you to kill several birds with one stone and add more prospects and customers to your sales tracking system. You don't want your effort to live and die with just one person, so get out there and perform excellently in front of an audience!
Remember, customer service is king. Take advantage of every opportunity to get more referrals, and then sit back and wait for more to come.