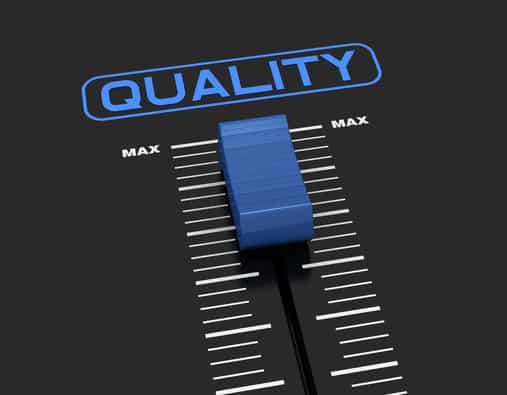 Have you ever considered that it takes the same amount of time to source and qualify a good lead as it does a bad lead? Of course we all want more leads, but having a sales funnel full of poor quality leads can not only cost you a fortune in wasted marketing spend, it chews through the precious and finite time of your sales team. Improving sales lead quality means reducing the calling people who are unlikely to buy.
Lead quality really is a make or break metric for strong sales and in this article, you'll discover how to significantly improve your averages.
Lead Quality Analysis
It's easy to tell how many leads you have, but what determines their quality? What defines a good lead? This can be a little tricky, so here's a couple of starting points for you.
Go through your current sales lead list and organize them into piles of good, better and best. Now it's reorganized, take a moment to consider the common characteristics between them. Is it purely a matter of the budget? Perhaps time is more sensitive and it's really a matter of who's ready to buy now?
Another good metric is found by looking at your company's best performing month for the lead conversion ratio. Now, take a look at the worst month and start to build a picture and get a good idea of the average. The average conversion rate can provide a decent target for your lead quality during these improvement strategies.
1. Consider Raising Your Prices
Dropping the price is a method too quickly adopted by salespeople who fail to dig out the real objections. Another side effect of dropping prices is damaging the quality of leads attracted to your product or service.
By raising prices, you make the price point a hurdle that potential prospects must leap before they're taken seriously. If you put the price up by 20%, you know the people are calling you liked your marketing and have cash in the bank.
2. Consider Putting More Hurdles in Place
In a similar principle to the above, there are other places in your funnel where more hurdles can be added to separate casual inquiries from serious buyers. We all know that a contact form requesting nothing but a name and email address will generate more leads. But how serious are they?
Consider adding more fields to request more information. For example, if you request a potential lead's annual revenue, you know whether you're looking at a $100,000 account or a $5,000 account. Put the low quality leads on an email drip campaign and the high-quality leads on a telephone call list.
3. Use Your Leads to Generate More Leads
We've written a number of blog posts on how to generate more referrals here on the CallProof blog. If a referral really is worth 100 cold calls, surely there's no better way to generate high-quality leads? See our other posts for inspiration on referral requesting strategies that can take your business to the next level.
4. Experiment with Targeted Marketing Platforms
The wonders of modern digital marketing mean that the cost-ineffective "scattergun" approach of advertising is becoming a thing of the past. Advertising platforms such as those on LinkedIn and Facebook allow you to select between the demographics of many different descriptions.
Consider where your marketing spend is allocated right now and look into other avenues that can produce higher quality leads for less money by narrowing down the target audience to those relevant to your business.
5. Match up Lead Quality to Salesperson Experience
The steps in this article will improve your overall sales lead quality, but you will still have some better than others and devising metrics to track quality is the key to maintaining high standards. Now you've considered ways to do that, always match up your best quality leads with your best quality salespeople. Low quality leads may be less valuable in terms of revenue, but they're a great place for rookie salespeople to get their feet wet with real experience.