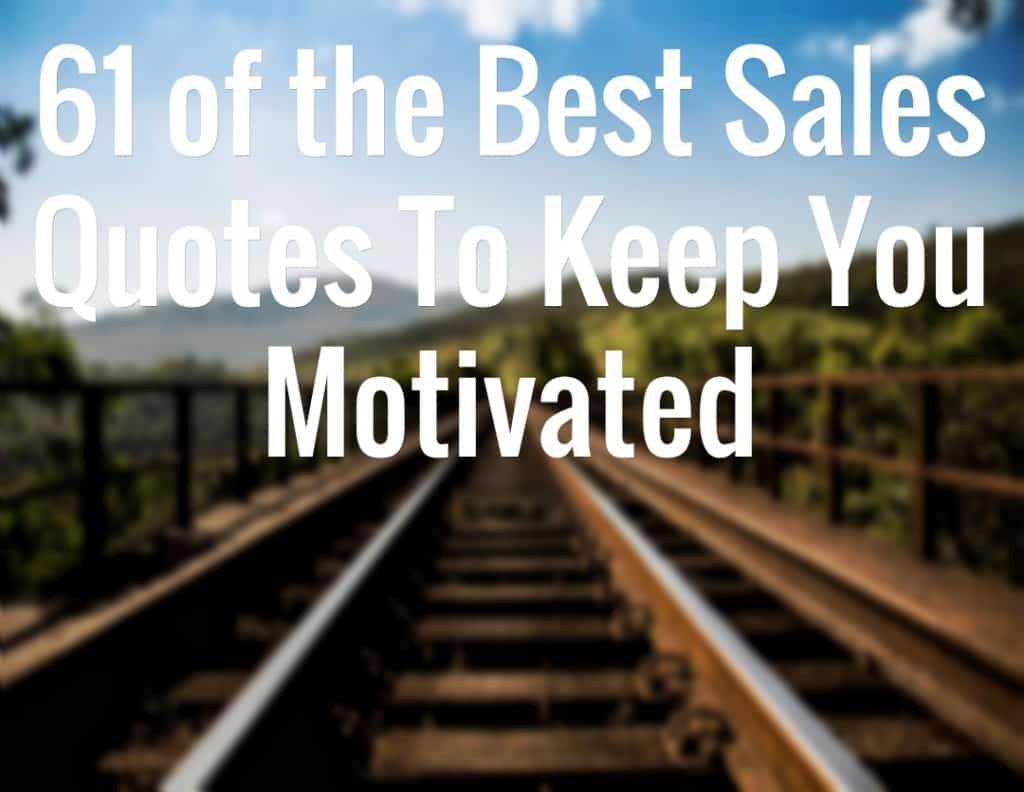 While a sales professional have the potential to make a lot of money, there's a darker side to the job. Outsiders only see the fancy meals and cocktail hours, behind the scenes, salespeople are constantly pounding the pavement to acquire new clients, and dealing with lots of rejection.
To combat the feelings of rejection that can bring your sales numbers to a screeching halt, it's helpful to have a source of positive feedback, and some pick-me-ups from inspirational sources like these.
Inspirational sales quotes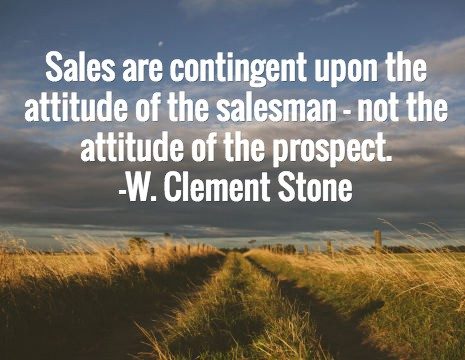 Sales are contingent upon the attitude of the salesman – not the attitude of the prospect.—W. Clement Stone
Most people think "selling" is the same as "talking". But the most effective salespeople know that listening is the most important part of their job.—Roy Bartell
Obstacles can't stop you. Problems can't stop you. Most of all, other people can't stop you. Only you can stop you.—Jeffrey Gitomer
Failure will never overtake me if my determination to succeed is strong enough.—Og Mandino
Enthusiasm is excitement with inspiration, motivation, and a pinch of creativity.—Bo Bennett
An employee's motivation is a direct result of the sum of interactions with his or her manager.—Bob Nelson
Motivation is what gets you started. Habit is what keeps you going.—Jim Ryun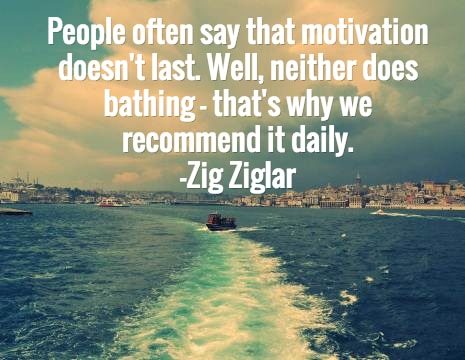 People often say that motivation doesn't last. Well, neither does bathing – that's why we recommend it daily.—Zig Ziglar
Ability is what you're capable of doing. Motivation determines what you do. Attitude determines how well you do it.—Lou Holtz
Desire is the key to motivation, but it's determination and commitment to an unrelenting pursuit of your goal – a commitment to excellence – that will enable you to attain the success you seek.—Mario Andretti
I think it all comes down to motivation. If you really want to do something, you will work hard for it.—Edmund Hillary
Motivation is the art of getting people to do what you want them to do because they want to do it.—Dwight D. Eisenhower
Wanting something is not enough. You must hunger for it. Your motivation must be absolutely compelling in order to overcome the obstacles that will invariably come your way.—Les Brown
I'll always use the negativity as more motivation to work even harder and become even stronger.—Tim Tebow
If people take anything from my music, it should be motivation to know that anything is possible as long as you keep working at it and don't back down.—Eminem
Once something is a passion, the motivation is there.—Michael Schumacher
Motivation is simple. You eliminate those who are not motivated.—Lou Holtz
If you must have motivation, think of your paycheck on Friday.—Noel Coward
When you look at people who are successful, you will find that they aren't the people who are motivated, but have consistency in their motivation.—Arsene Wenger
Money was never a big motivation for me, except as a way to keep score. The real excitement is playing the game.—Donald Trump
No matter how good you are at planning, the pressure never goes away. So I don't fight it. I feed off it. I turn pressure into motivation to do my best.—Benjamin Carson
Motivation is what gets you started. Habit is what keeps you going.—Jim Ryun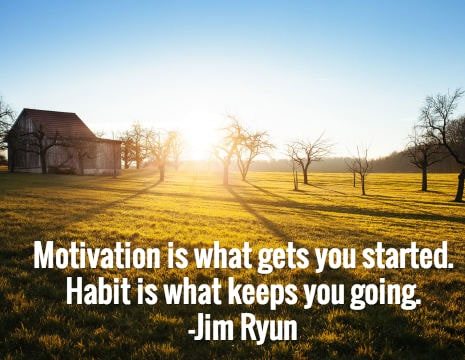 Enthusiasm is excitement with inspiration, motivation, and a pinch of creativity.—Bo Bennett
A champion needs a motivation above and beyond winning.—Pat Riley
Motivation is everything. You can do the work of two people, but you can't be two people. Instead, you have to inspire the next guy down the line and get him to inspire his people.—Lee Iacocca
You can look for external sources of motivation and that can catalyze a change, but it won't sustain one. It has to be from an internal desire.—Jillian Michaels
I definitely wanted to earn my freedom. But the primary motivation wasn't making money, but making an impact.—Sean Parker
There's always the motivation of wanting to win. Everybody has that. But a champion needs, in his attitude, a motivation above and beyond winning.—Pat Riley
People need motivation to do anything. I don't think human beings learn anything without desperation.—Jim Carrey
The thing that motivates me is a very common form of motivation. And that is, with other folks counting on me, it's so easy to be motivated.—Jeff Bezos
You will never find time for anything. If you want time you must make it.—Charles Robert Buxton
The difference between a successful person and others is not a lack of strength, not a lack of knowledge, but rather a lack of will.—Vince Lombardi
The difference between try and triumph is just a little umph!—Marvin Phillips
Success is the culmination of failures, mistakes, false starts, confusion, and the determination to keep going anyway.—Nick Gleason
You don't close a sale; you open a relationship if you want to build a long-term, successful enterprise.—Patricia Fripp
If you are not taking care of your customer, your competitor will.—Bob Hooey
There are no shortcuts to any place worth going.—Beverly Sills
Life's battles don't always go to the strongest or fastest; sooner or later those who win are those who think they can.—Richard Bach
If we learn from losing, we become winners in the end.—Anonymous
If we all did the things we are capable of doing, we would literally astound ourselves.—Thomas Edison
Leadership is doing what is right when no one is watching.—George Van Valkenburg
Great works are performed not by strength but by perseverance.—Samuel Johnson
Success is the ability to go from failure to failure without losing your enthusiasm.—Winston Churchill
Opportunities are usually disguised as hard work, so most people don't recognize them.—Ann Landers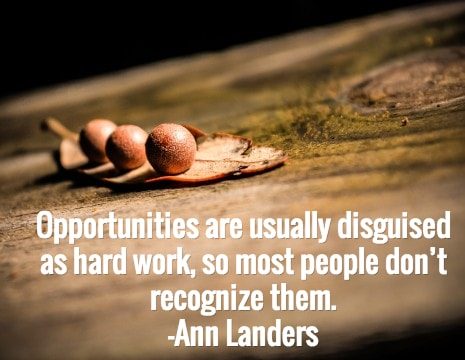 The majority of men meet with failure because of their lack of persistence in creating new plans to take the place of those which fail.—Napoleon Hill
You can do anything if you have enthusiasm. Enthusiasm is the yeast that makes your hopes rise to the stars. With it, there is accomplishment. Without it there are only alibis.—Henry Ford
Do not let what you cannot do interfere with what you can do.—John Wooden
Take risks.  If you win, you'll be happy; if you lose, you'll be wise.—Anonymous
Don't be distracted by criticism. Remember the only taste of success some people have is when they take a bite out of you.—Zig Ziglar
Make a customer, not a sale.—Katherine Barchetti
Tough times never last, but tough people do.—Robert Schuller
Most of the important things in the world have been accomplished by people who have kept on trying when there seemed to be no hope at all.—Dale Carnegie
Don't wish it were easier, wish you were better.—Jim Rohn
Fear is the destroyer of dreams and the killer of ambitions.—Jeffrey Benjamin
Excellence is not a skill. It's an attitude.—Ralph Marston
Today is always the most productive day of your week.—Mark Hunter
For every sale you miss because you're too enthusiastic, you will miss a hundred because you're not enthusiastic enough.—Zig Ziglar
Your competition is EVERYTHING else your prospect could conceivably spend their money on.—Don Cooper
If people like you, they'll listen to you, but if they trust you, they'll do business with you.—Zig Ziglar
If opportunity doesn't knock, build a door.—Milton Berle
Goals aren't enough. You need goals plus deadlines: goals big enough to get excited about and deadline to make you run. One isn't much good without the other, but together they can be tremendous.—Ben Feldman
Pretend that every single person you meet has a sign around his or her neck that says, 'Make me feel important.' Not only will you succeed in sales, you will succeed in life.—Mary Kay Ash
Return, again and again
Come back to this article frequently, mark it as a favorite, or copy it into your notes app on your smartphone for easy references, and drink deeply from these inspiring words!