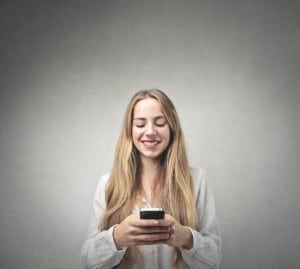 It's challenging for businesses to keep up with trends. One trend worth implementing in your business—and putting it through the necessary changes—is the mobile revolution. But not for the reason many people think.
You see, it's not social media that's currently transforming customer service; it's texting. Learn why your business should do whatever it takes to let customers communicate with your business via texting.
Proof of texting's value
If you do even a small amount of research, you'll find studies show that consumers are interacting with businesses using an unexpected tool. They reveal that consumers are opting to text as the go-to resource. Here are just a few examples:
Over half of the respondents in a HeyWire study say they would prefer texting a customer service rep instead of other methods they are currently offered.
Perhaps most telling, the same study shows that 75 percent of consumers would choose texting rather than social media tools to communicate with customer support reps.
When opting to use texting over social media to communicate with customer care, respondents report that texting overcomes the lack of impact that social media lacks, in addition to providing a sense of immediacy and intimacy for consumers.
About 31 percent of consumers who own mobile phones opt to text over talking on the phone, revealing a strong preference for the convenient, manageable communication tool.
Approximately 83 percent of American adults have a cell phone (either standard or smart phone) and 73 percent of these cell phone owners use texting for a variety of purposes.
Finally, consumers report that they prefer using texting to resolve issues related to customer service.
Social media's falling star
Companies have been slow to adopt text messaging, even though it holds a lot of potential for effectively communicating with customers and resolving problems. There's a reason for this: Businesses have looked at texting in the wrong way. They've seen its potential for marketing, but as a result, it's also viewed as potential spam that consumers will just block.
But used as a customer service tool, texting can be very effective.
Consider how social media really works as a communication tool:
If a consumer jumps on the internet to voice a concern on social media, that message is broadcast to everyone who's following the feed at the moment—and everyone who sees the retweets later.
United offers a great example of this negative incentive at work. After a passenger broadcast his negative experience with United damaging his guitar on social media, the company's stock fell by 10 percent. Instead of resolving the problem, social media as a customer service tool actually worked against United.
Think about it: You're encouraging customers with a complaint about your business to discuss with the world what could potentially be very real problems with your product or service. Consumers believe that broadcasting an experience with terrible customer service will lead to a refund or discount. In this sense, social media can really damage your reputation.
On the other hand, text messaging is private. It is an interaction between your business or customer care rep and a single customer, so it's a much more personal way to communicate—and it won't mean simultaneously broadcasting complaints over the internet, either. Customers get quick responses to their needs, too. A final bonus: You can use texting as a fraud prevention tool, because you'll be able to track the phone numbers of customers in your customer relationship management system.
Put texting to work for your business
Your business can and should adopt texting as a leading way for customers to get in touch with you. Get the word out about the tool, and let customers know they can use it. Include the option to communicate using this tool clearly on your website or customer service site, letting customers know that they can opt to communicate via text instead of waiting on the phone, on hold. Use specific call-to-action phrases such as "Text us your question," or "Here's the number to call if you want us to return your call." RetailReply has a unique feature where businesses can try out texting responses.
Is your business ready to adopt one of the most promising customer service tools available today? Offer text messaging to your customers, and be prepared for an onslaught of text messages. Who knows, your business phones just might become silent—and a thing of the past, like landline phones have become for many households across America.