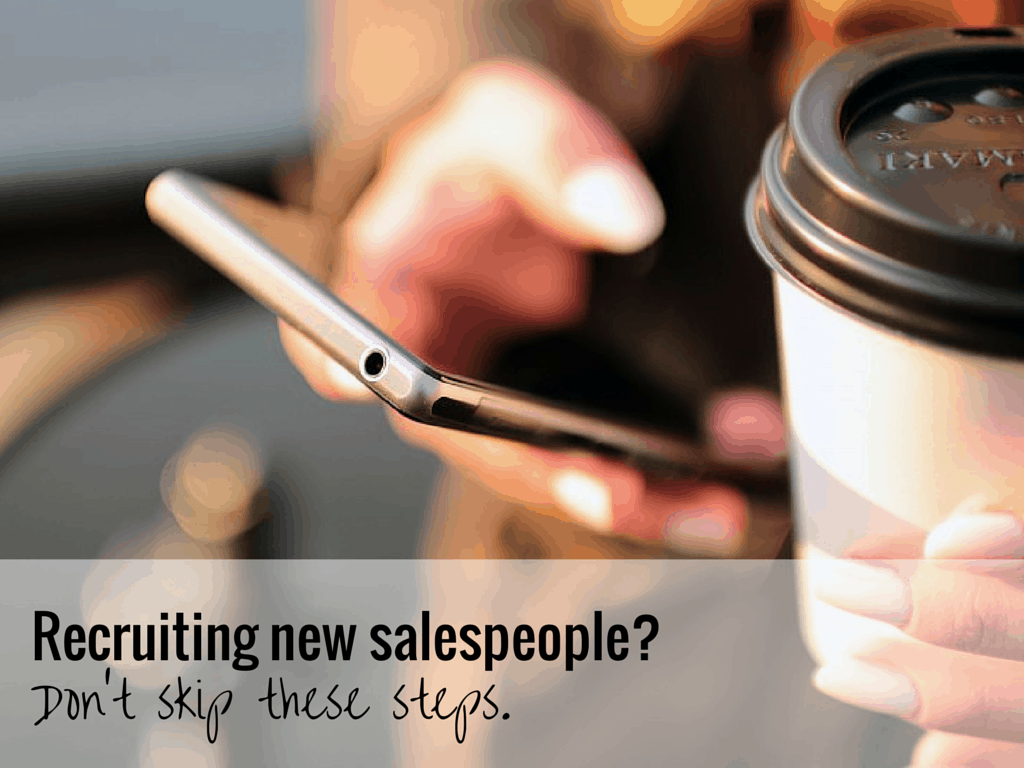 It's time to re-evaluate the way you hire.
Even if your hiring strategy is just a few years old, you're likely missing out on valuable prospects. Hiring great salespeople in 2015 requires tapping into the potential talents of the emerging younger generation. This new generation of millennial salespeople has different qualities and skills, and they're seeking jobs that go beyond just making money.
Don't miss out on the exact employees you want to attract, and don't just assume they can do what they say. Make these 5 steps the foundation of your hiring process.

1. Make the sale.
Evaluating prospects is no longer enough. Before you start rating prospective salespeople, you need to sell your organization in a way that attracts potential employees.
If we want to raise the bar in our workplaces, the Millennial generation requires us to change the way we hire. They want social recognition and added benefits in the quality of their work environment. Money is important, but it's not the only focus. Prospective employees should understand why their new role is important, what your organization stands for and what they can earn in the future.
2. Conduct a thorough interview. (Then follow-up.)
Did they do any pre-interview research? Ask what they know about your organization.
Do they really know how to have a conversation with strangers? Ask them to share stories about using their strengths during a difficult sales pitch.
Make a list of the traits you value in your best salespeople and see if your candidates respond in the same way your top associates would.
After you conduct an interview, it's time to start searching. That candidate seems great, but can they really do what they say? Call the prospect's references. Do their bosses or previous co-workers have good things to say? Do their stories match up?
Finding a mutual contact is another useful tool. Perform a simple LinkedIn search to connect with someone else in your field who knows the job seeker. They can offer another perspective about the person's character and habits.
3. Test them.
Sometimes the evidence you find about a candidate's work performance is ambiguous. In this case, it's time for a trial run. You need to determine exactly how the new employee performs in the unique conditions of your workplace.
There are a few ways to do this. First, you can hire them at a competitive rate for one week-long project. Tell them if you're satisfied with their work, they'll earn the opportunity to take a long-term position at your company. Another option is to have the new person shadow a current employee. See how well they interact with your staff members and how they react to your working conditions. If the trial goes well, you can invite them to more official training sessions.
These methods will help you avoid wasting time and money in training someone who lacks the fundamental qualities you're looking for.
4. Observe their performance.
Once you decide a to conduct a trial run, be sure to follow up on your candidate's performance. If you really want to know how effective they are, call up their last few successful sales.
Ask for honest feedback about the customer's impressions of the salesperson and if they did everything that they promised. Next, ask your trial salesperson who they felt their best customers were and why — contact them too if you haven't already. This method allows you to see if your new prospect is making the right impressions in the field.
5. Choose experienced applicants when possible.
If you really want to get the best new employees, it's always safer to pick someone who has at least two years of experience in sales. Inexperienced people can still become valuable assets to your business, but the risk of choosing the wrong person is much higher. If they don't have a minimum two years of successful sales experience, be careful taking a chance on them.